Phase 3 of the Marvel Cinematic Universe (MCU) has been a roller coaster of sorts for me. While I did enjoy a few of the films, most of them fell flat for me. I was especially looking forward to Avengers Infinity Wars and Ant-Man and the Wasp but I left both movies feeling numb and uninterested. Could the 90s-set origin story of Captain Marvel turn the tables and reignite my fangirl juices for 2019 and beyond? It did just that and then some! While some might mock the simplicity of Captain Marvel, I actually loved how the film seems to bring back all the elements that make me an MCU fan in the first place!
Set in the 1990s, Marvel Studios' "Captain Marvel" is an all-new adventure from a previously unseen period in the history of the Marvel Cinematic Universe that follows the journey of Carol Danvers as she becomes one of the universe's most powerful heroes. While a galactic war between two alien races reaches Earth, Danvers finds herself and a small cadre of allies at the center of the maelstrom.
Captain Marvel Review for Families w/ Kids
Carol Danvers was a pilot on Earth before she lost her memories and became a proud warrior of the Kree Nation. She gladly used her powers to fight in the ongoing war with the Skrull, a green-skinned shape-shifting people. It wasn't until she returned to Earth that everything changed. She found out that was more to her story and to the role she would play in keeping universal peace as Captain Marvel.
While there were plenty of special visual effects, Captain Marvel was more about the story, the people, and the journey. Her personal growth as she interacted with a young Nick Fury and with old friends was engaging at times, funny at others, and heart-warming when it needed to be. It had just the right amount of wit, humor, and action. It's pretty tame action, though, since there's almost no blood, baddies suffer (at most) from physical and emotional bruises, and the scariest thing is an cat-like alien.
Captain Marvel is the first Marvel film to feature a woman as the main character. After almost 20 movies in the past decade, it's nice to finally see a female hero on the big screen who's more than just backup help to make the guys look good. The "girl power" stuff was a bit over the top at times. But, it was pretty entertaining to see how much my daughter liked the scene where Carol's full cosmic powers are unleashed to the tune of "Just a Girl" by No Doubt.
Speaking of the time pre-dating Gwen Stefani's solo career, the 90's throwbacks were way more fun than I anticipated. Blockbuster Video, pay phones, and pagers were only a few tidbits along my inner teenager's memory lane. I couldn't wait to cue up a decade playlist of my favorite R&B, pop, and alternative songs from back in the day.
As mentioned, Captain Marvel was a refreshing entry into the MCU family. Was it predicable? Pretty much but it was still nice to see how it all played out. Plus, the rewind to a straight-forward plot with characters not yet loaded with jaw-dropping tech was perfect as we get ready for the next phase of Marvel heroes. In fact, Captain Marvel renewed my excitement before seeing Avengers Endgame (which was 3 hours of goodness for long-time Marvel comic and MCU fans) and has me ready to order advance tickets for Spider-Man Far From Home. This film is definitely in my MCU top five! If you want to see how this one woman came to equal all the superheroes combined, make sure you see Captain Marvel!
Marvel Studios' Captain Marvel on Digital & Blu-ray
You can already grab the digital version of Captain Marvel on Digital HD, 4K Ultra HD, and Movies Anywhere now. If you're looking for a physical copy (which includes a digital code as well), the Captain Marvel Blu-ray will be available on June 11, 2019.
The bonus features include:
Blu-ray & Digital HD
Alternate Movie Versions

Movie with Intro – An introduction by directors/screenwriters Anna Boden & Ryan Fleck.
Movie with Commentary – Commentary by directors/screenwriters Anna Boden & Ryan Fleck.
Featurettes

Becoming a Super Hero – Follow Brie Larson's journey as she joins the MCU, and see what it takes to be a Marvel Super Hero in every sense of the word.
Big Hero Moment – Explore how impactful Captain Marvel's entrance into the MCU is, and how she inspires audiences around the world.
>The Origin of Nick Fury – Witness some of the MCU's most significant events through Nick Fury's eyes, and see how his influence helped shape the MCU.
The Dream Team – Discover why Anna Boden & Ryan Fleck are the perfect pair to direct Marvel Studios' most powerful hero.
The Skrulls and the Kree – Take a deeper look into the Skrulls and the Kree, their ongoing conflict, and the importance of shifting perspectives in the film.
Hiss-sterical Cat-titude – The cast and crew dish on working with Goose and the raw talent it takes to portray such a complex character on-screen.
Deleted Scenes

"Who Do You Admire Above All Others?" – Kree Commander Yon-Rogg must answer to the Supreme Intelligence, who questions his leadership ability.
Starforce Recruits – Yon-Rogg lectures a roomful of students on the Kree's mission to defend all nations from the scourge of the Skrulls.
Heading to Torfa – Vers (Danvers) and her fellow Starforce members banter as they prepare for their rescue mission to Torfa.
"What, No Smile?" – In this alternate version of a scene from the movie, Vers is consulting a map when she receives a dubious offer of assistance.
Black Box – Keller attempts to track Vers and Fury after their escape in a quadjet from the Joint USAFA Facility.
Rookie Mistake – Novice S.H.I.E.L.D. agent Phil Coulson helps Director Keller out of an embarrassing situation.
Gag Reel – The fate of the universe hangs in the balance as the cast battles props, flubs and Flerkens in these outtakes from the set.
Exclusive to Digital
Journey into Visual Effects with Victoria Alonso – Experience how filmmakers' visions of the MCU come to life on-screen through the skill of the Visual Effects team.
What Makes a Memory: Inside the "Mind Frack" – What does it take to craft an action-packed sequence for a Marvel Studios film? Nothing short of an epic team effort!
Concept Art – Explore artwork from "Captain Marvel" and trace the visual development of characters.
On-Set Images – Uncover a trove of behind-the-scenes and production photography.
Healthy KREE-atine Smoothie Recipe
One more thing, to celebrate the at-home release of Captain Marvel, I was sent this cute Healthy KREE-atine Smoothie recipe to share. Enjoy!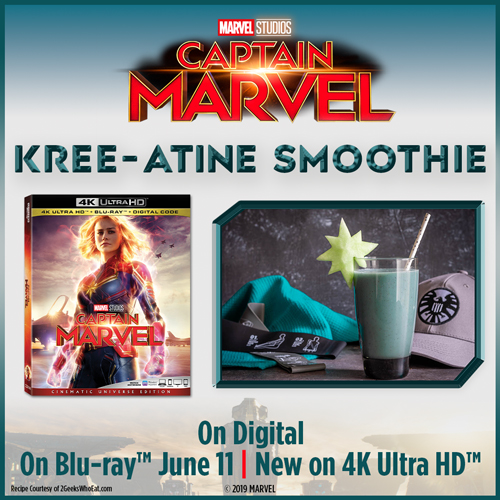 Captain Marvel is out on Digital now & Coming on Blu-ray June 11th!
I received a copy of Captain Marvel for review purposes. All opinions are my own.